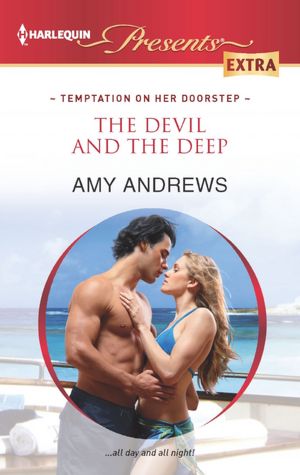 The Devil and The Deep by Amy Andrews *****
This book should come with a WARNING. Do NOT choose this book to read while sitting at the bedside of a dying relative. You will make enemies when you glare at the nursing staff for interrupting you. Because you will not want to put this book down. This book also has really sizzling love scenes, so it is not the book to read in the presence of your Mother-in-Law. Even if she is in a coma and will not notice your heavy breathing and hot flushes.
Seriously this book has some wow factor. I always loved those old musicals in which there was a story within a story. This book has a story within a story that will have you running to the fridge for an Icepack.
The heroine Stella Mills is a best selling author of a historical romance featuring a pirate so hot he would turn the seven seas into a steamy desert when he captures Lady Mary Bingham and seduces her. The funny thing is that Vasco Ramirez is based on Stella's real life childhood friend Rick Granville who would never be interested in doing any of those interesting things to Lady Mary's alter ego, the real life Stella Mills. Or would he?
The long time friendship between Stella and Rick is sorely tested when her father leaves them a treasure map in his will, sending them on a Treasure Hunt together. Or is it a Pleasure Hunt? Rick is a hero to die for, though early in the book when he displayed his flirty technique with OTHER women I was ready to clip him under the ear. But once he got going, he had me under his spell like the rest of those poor bemused women. I thought I knew better but apparently I'm a sucker for a gorgeous guy with a nice line in flirty charm.
Stella is a wonderful heroine. In spite of her denials, it's obvious that Rick was always the one for her from the time she was ten years old. Even her ex is so opposite to Rick you can see how hard she was running. But her book gives her away every time. So imagine what might happen if Rick should get hold of it. Lucky a macho seagoing treasure hunter isn't likely to read a romance novel.
If you've read Amy's recent books Taming the Tycoon and How to Mend a Broken Heart, you wont expect this. Just as they are entirely different, this is different again. It has the wit and humour of Taming the Tycoon but the added vibe of a rollicking sea going adventure and don't forget that sizzling hot historical pirate. Amy's heroes and heroines are so incredibly real you have this sneaking feeling you've met them somewhere. They aren't perfect but they are likeable as well as loveable. If you are after a feel good read that still packs a punch emotionally and with nicely graded sizzle on every page, this is the book for you.